Single decade rosaries are also known as pocket rosaries or tenners. 
People often carry their single decade rosary in a purse or pocket and pray one

decade at a time throughout the day. By the end of the day, they have prayed a full rosary or more. They are also favorites as gifts.

We like to offer unique items and, in this, we sometimes incorporate vintage beads and charms in our single decade rosaries.  
you may like to own one or give one as a gift.
Like our rosaries, all items are hand crafted and are either one-of-a-kind or limited edition. 
All prices include shipping within the US.  

If you live outside the US and are interested in purchasing our jewelry, please e-mail us at  Gardenias4Lina@aol.com  for a price including shipping to your country.  

In an effort to keep  costs at a minimum, we'll be shipping single decade rosaries
USPS First Class.

Each item will be shipped in a fabric pouch and gift box with a descriptive card.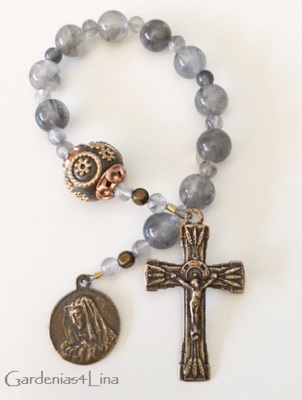 Cloud Crystal Quartz Single Decade


Gray Cloud Crystal~ hand cast bronze Marian medal and crucifix and handmade Indonesian Pater
3 Available

$60 including shipping within the US


Buy Now
Clear Crystal Quartz and Amethyst
Single Decade Rosary


Genuine faceted crystal quartz ~ chevron amethyst ~ vintage millefiori  heart charm and Italian imported openwork crucifix
Three available

$45 including shipping within the US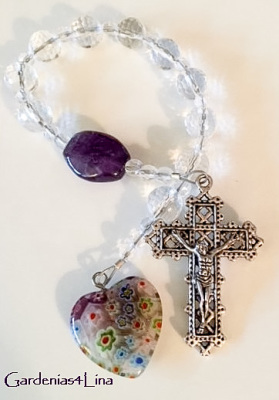 Buy Now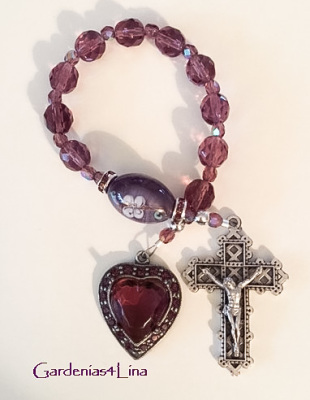 Amethyst Glass and Cloisonne
Single Decade Rosary


8 mm Czech glass, ~ cloisonne Pater flanked with crystal, ~ vintage crystal heart and Italian imported crucifix
Two available

$40 including shipping within the US


Buy Now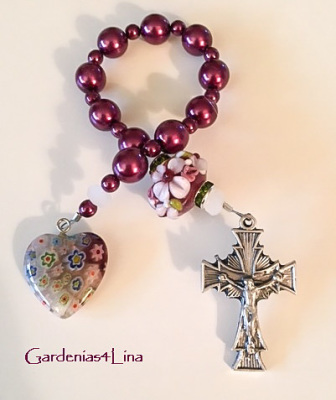 Burgundy Glass Pearl and Lampwork Single Decade Rosary

Burgundy glass pearls ~ handmade raised flower lampwork Pater, ~ crystal roundelles ~ opal glass ~ vintage millefiore heart ~ flared edge Italian imported crucifix
One available


$45. including shipping within the US

Buy Now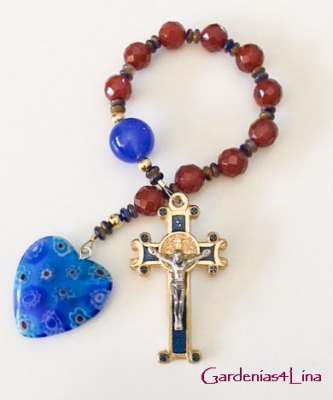 Brick Czech Glass and Blue Onyx Single Decade Rosary

Faceted brick tone Czech glass ~ dyed blue onyx Pater ~ vintage millifiore heart and Italian imported blue enamel Saint Benedict memorial crucifix
One-of-a-Kind

$45 including shipping within the US
Buy Now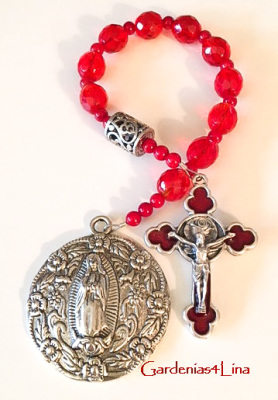 Single Decade Rosary

10 MM Czech glass ~ Bali style Pater ~ red enamel (Italian imported) roses crucifix and 1 1/2" Our Lady of Guadalupe medal
Two available


$50. including shipping withn the US
Buy Now
The rosary is the book of the blind, where souls see and there enact the greatest drama of love the world has ever known; it is the book of the simple, which initiates them into mysteries and knowledge more satisfying than the education of other men; it is the book of the aged, whose eyes close upon the shadow of this world, and open on the substance of the next. The power of the rosary is beyond description.
All Rosaries copyright Marilyn Nash